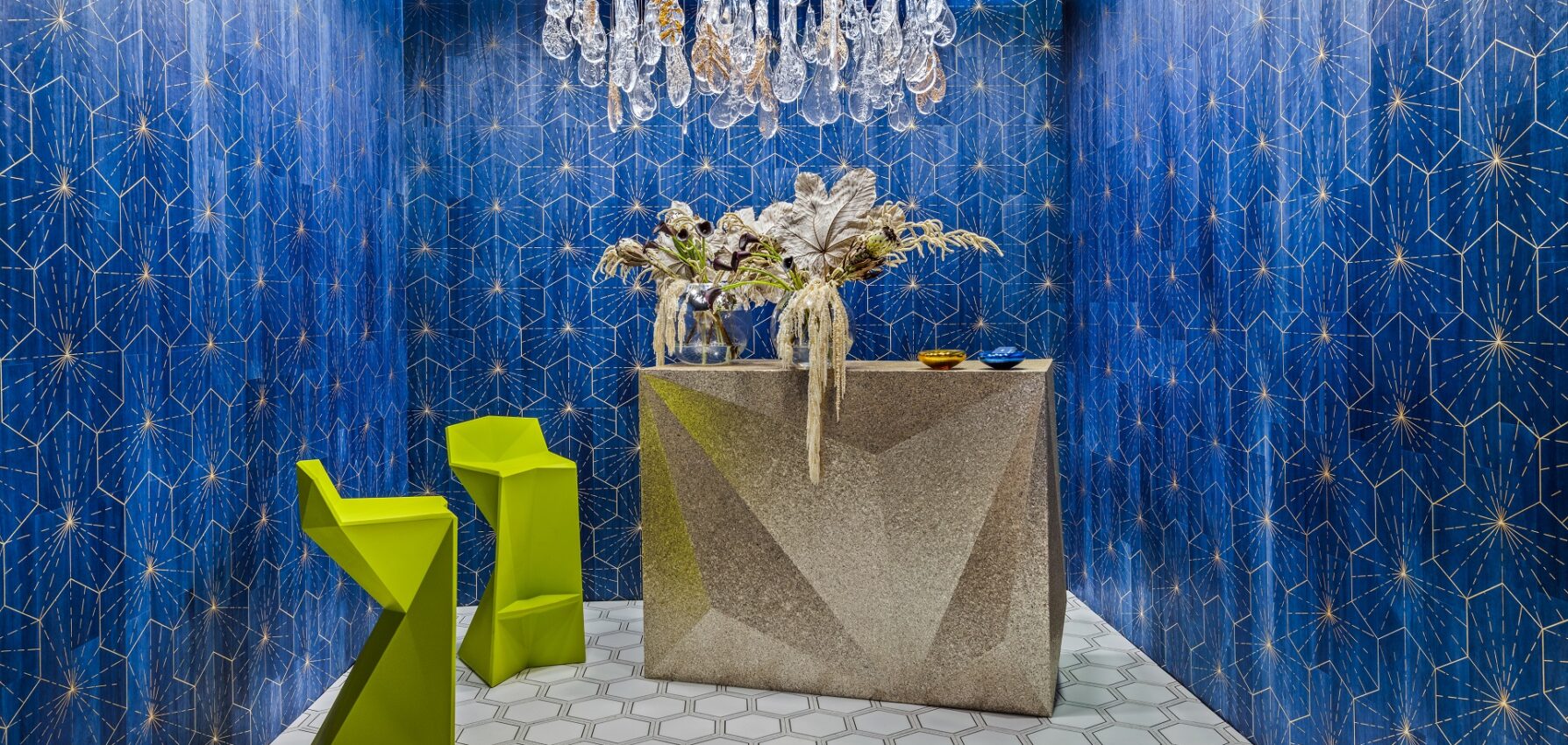 Introducing The Astral Bar – an elegant depiction of hospitality travel in space in the coming future. Taking visual cues from iconic science fiction films like Stanley Kubrick's 2001: a Space Odyssey and Luc Besson's The Fifth Element, sharp geometric patterns are paired with dense metallic tones to create the illusion of celestial surroundings. Emblematic of this concept, the Ajiro Burst of Happiness wallcovering—designed by Jeffrey Beers International for Maya Romanoff—evokes the sensation of floating in a stary sky. The bar was custom designed to mimic the mineral form of moon rocks, while reminders of earth are found in the unique fossilized flower light installation.  Come inside, have a seat, and let your imagination take you on an unforgettable voyage around the stars and planets.
Wallcovering
Walls – Designed in collaboration with design firm Jeffrey Beers International, Ajiro Burst of Happiness by Maya Romanoff evokes a feeling of euphoria—an emotive and sophisticated wallcovering for any environment. Hand-inlaid paulownia wood veneer is laser-cut to reveal a beautiful, energized stream of metallic foil "bursting" throughout a classical hexagonal pattern.  Available in 10 elated colorways. Shown here in Tailored Blue.
Bar Front – Natural silica mica shaved micro‑thin and laminated to a sturdy paper backing, Wallmica by Maya Romanoff provides the look of granite in a strong and flexible wallcovering. Shown here in Tiger Eye.
Lighting
Herbarium by LASVIT is a tribute to nature. A special glassmaking technique enabled them to imprint any flower in glass and conserve the image of nature as we know it. Specifically, the molten glass is poured over dried flowers, herbs or small tree branches, and the greenery turns into ashes, leaving their distinct traces in the glass surface.
Flooring
A futuristic take on the age-old charm of Terrazzo, AKDO's Next Collection adds a striking level of visual impact to any space it's featured in. Next Hex Thassos (H) with White Terrazzo & Stainless Steel showcases a bright white, honed, Thassos marble hexagon, bordered by the metallic sheen of a stainless-steel inlay and a pop of white terrazzo.
Furnishing
VERTEX by Karim Rashid is a set of chairs with triangular planes which join dynamically together to create comfortable forms. VERTEX looks as if it was chiseled from a single block of material, what remains is structural yet, beautiful. The VERTEX collection was created to integrate a more conceptual architectural piece into our space, to give it a more sophisticated touch.